All aboard to the Big Boots & Western Railroad mainline through Candler, Florida.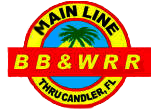 Big Boots & Western is the largest 7-1/2″ gauge railroad in Florida. We are a private club but sponsor open-to-the public meets several times a year. Check our Time Table page for details.
Sit back, relax, and look around the site for pictures, videos, and other interesting information about the exciting world of large-scale model railroading. Feel free to contact us if you'd like to visit and join in on the fun!